By raincoaster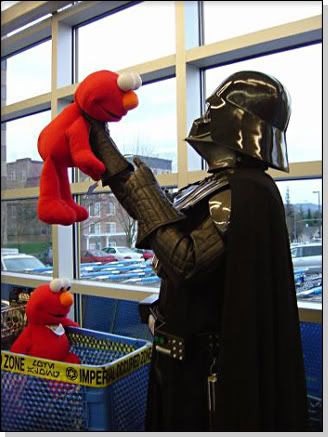 Let's just say it: we've had enough of this giggling, twitching, inarticulate, naked, hairy figure.
If he sat down next to us on the bus, we'd move. You know it, I know it, The Children's Television Sweatshop knows it, Grover knows it, CAA knows it, Elmo knows it.
That's why he has the bodyguards.
At last, as sales of the latest "Fondle Me Elmo" doll fail to meet pre-Christmas sales expectations, the screechy acrylic star appears vulnerable. At last, people have begun to speak out.
His recent loss of the contract with Paramount, along with increasingly difficult to hush up episodes of bizarre public behavior have led to rumours of drug use, and now, for the first time, costars and those upon whose backs he climbed to reach the dizzying heights of stardom dare to step into the light and make their case, once and for all, against the megalomaniacal fiend known as Elmo.
From Eric Heyl, bravely reporting in the Pittsburgh Tribune:
Weary of his increasingly erratic behavior, Sesame Street producers will not extend the contract of the program's most popular muppet.

Gary Knell, CEO of Sesame Workshop, the parent company of the popular PBS program, told The Wall Street Journal yesterday that he is severing ties with Elmo.

"As much as we like him personally, we thought it was wrong to renew his deal," Knell said. "His recent conduct has not been acceptable to Sesame Street."

Knell would not elaborate. But those close to the show indicated PBS had grown increasingly irritated over Elmo's public embrace of Scientology.
Thus was the first shot fired across the bow of the Good Ship Elmotastic. It was not the last. As your intrepid reporter … uh … reported late last year, Elmo's increasingly troubled behavior was not without cause … cause which was discovered by hardworking agents of the law in Barstow, California.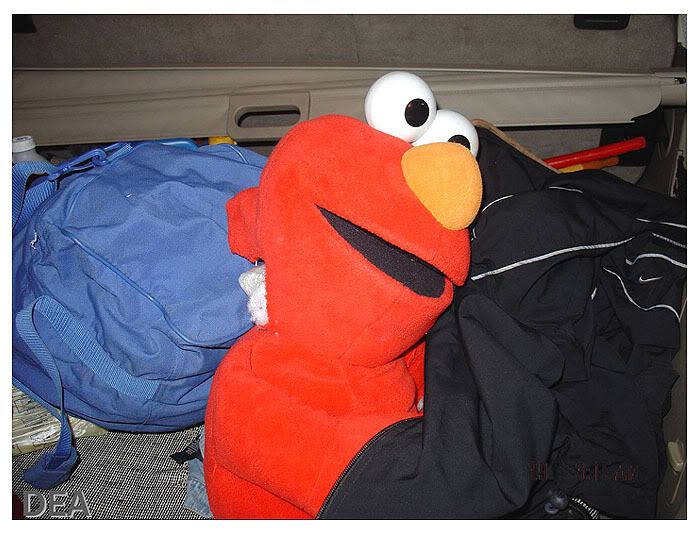 OCTOBER 26–A Colorado drug operation hid large quantities of methamphetamine inside Elmo dolls, according to federal investigators who yesterday announced the indictment of 21 alleged members of the ring, which transported the drug from California…
When investigators opened up the plush doll's skull, they discovered the drug stash inside wrapped in plastic (as seen in this evidence pic). While Elmo has never previously been linked to narcotics distribution or use, the Sesame Street character appears to have no teeth, which frequently is seen in heavy meth users.
It explains so much. So very much.
While the American press understandably hesitated to publish attacks on such a prominent, seemingly invulnerable figure, the Canuckistan establishment felt no such qualms, feeling perhaps that, at last, they had found a subject so universally loathesome that it could unite all Canadians once and for all; yes, in Elmo the Quebec Separatists and the Torontocentrics were as of one mind. We were united. In Elmo-loathing, Canada has at last found a force which can bring an end to the constitutional crisis which has plagued it since the Treaty of Utrecht. Yes, we can all stand shoulder to shoulder and admit, "We hate Elmo."
The proof? Right here in the chapter entitled A Two, Ah-Ah, Two-Faced Snake, from Scott Feschuk's book Searching for Michael Jackson's Nose:
BIG BIRD: All right. Well, that was when it all started to change, really. Elmo had always been a sweet little guy, even when he was starting to make it big. But then one year Bob McGrath took him to the Grammys, and Elmo was never the same.

PRODUCER: Got a bit of a big head, did he?

BIG BIRD: Well, not exactly. I think what happened is that at one of those after-parties, Bob introduced Elmo to P.Diddy, and they just hit it off. Dancing, laughing, partying. One minute Elmo's learning his alphabet and practicing his phonics, the next he's chugging Cristal and calling Maria "bee-yatch."

PRODUCER: Cut. That's great, Bird, great. But we're working more from the Elmo-is-adored-by-children-around-the-world angle.

BIG BIRD: Oh sure, he's all tee-hee for the cameras. But yell "Cut!" these days and the kid's got a voice like Harvey Fierstein and a temper like Sean Penn.
But you know, I think it was the "Tickle Me Harder" sex tape that really did him in. NOT safe for work, particularly if you work in the entertainment industry.
The tape, made prior to Tickle Me Elmo's success and fame on Sesame Street, was recently discovered by TMZ.COM working in conjunction with investigative reporters from PoopyCaca.com. "Tickle Me Harder" shows Elmo, who is credited under with the name "El Macho," in compromising positions with two other actors, "Jack Mo'" and "Steve."

Publicly, Elmo made a brief statement to reporters saying only, "Elmo no like."
Click on at own risk…