Tuesday, April 7th, 2009
By Glinda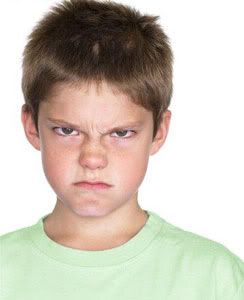 There is a child who is in our lives that I sort of wish wasn't. By this, I mean the kid is an a-hole in the making. It is a painful, yet fascinating process to watch.
But yet, was this the way the child came out of the womb? Did he come out of it completely defiant, rude, and with the penchant for stomping on people's feet simply because doesn't like what they are saying?
Or is the fault of the parents?
Why is it that the mother can watch the boy as he deliberately obstructs tee ball practice as he sits down in mid-field, or purposely throws the ball the other way? Or somehow not see as he sticks his tongue out to adults who are in charge?
Well, she did at least give him a time-out when he stomped on the coach's foot.
I've heard her make excuses for her ignoring of his behavior, as if it will one day all just magically disappear. It's just a phase, you know. The path of least resistance is one this mother is all too familiar with. In fact, I think it has bench alongside it with her name on a plaque, that's how often she uses it.
All kids do indeed have their phases. But when is such behavior a phase, and when is it obvious to all but the parents that this is ingrained behavior? And even if it's a phase, it still needs to be addressed, stat.
So tell me, are children like this a product of nature, or nurture?