Sunday, April 26th, 2009
By Glinda
Looking for some ways to limit your baby's exposure to chemicals? Many people are most concerned with newborns and infants, as their body mass is so much less, making even small amounts of chemical exposure a bigger risk. I've got some great choices for you here.
Fleurville Re-Run Mod Pod Changing Kit Made out of recycled plastic bottles! It has an integrated changing pad, 3 interior pockets, 1 exterior pocket, includes wipe case and adjustable, removable shoulder strap. And is totally cute, to boot!
Boon ModWare These BPA-free toddler utensils will make mealtime a breeze!
Waldorf Maple Teether Non-toxic maple made in the US makes this teether a winner!
Kringelring Another fabulous non-toxic teething ring that also doubles as a rattle!
Organic Fruit Basket Teething Toys This cute basket is made of organic Egyptian Cotton and stuffed with 100% organic cotton, so no worries about baby chewing on them!
Priva Snoozy Organic Cotton Waterproof Multi Use Pad A rare waterproof pad with a 100% natural cotton surface. It also features antimicrobial qualities and an allergy barrier. Use it for bassinet, crib, stroller, and changing table.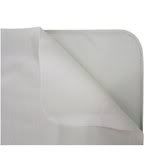 Naturepedic Waterproof Organic Cotton Flat Crib Pad This crib pad is all you could ever want! Waterproof, soft and breathable, 100% organic cotton fabric, and no vinyl/PVC, phthalates, or latex.
SwaddleDesigns Organic Ultimate Receiving Blanket This very highly rated receiving blanket is the perfect weight, and especially important, the perfect size for swaddling. Comes in many different color options.
California Baby Super Sensitive Shampoo and Body Wash I'm going to go out on a limb and call pretty much every newborn "super sensitive." California Baby makes great stuff, and Amazon actually has the lowest prices I've seen.
Seventh Generation Baby Wipes I can't in good conscience leave out one of the most famous and best "green" products for baby. Chlorine free, fragrance free, and biodegradable. What's not to like?