Monday, June 2nd, 2008
By raincoaster
Such dedication! Such self-sacrifice! From the first moment the world first noticed this dapper gent, desperately clinging to a palm tree as Nature herself tried to wipe him off the face of the planet, the world has been in love with Anderson Cooper's quiet charm and understated courage.
But now, he faces the most frightening fate yet, right there in the Friday Caption Contest. And it's time to announce who nailed it (I hope they nailed it down well; jealous meteorological forces are massing!).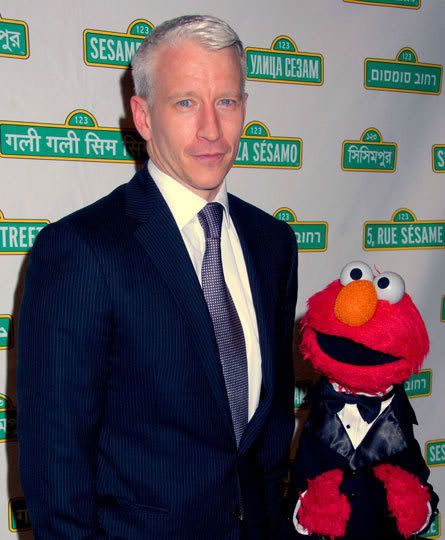 Jennie Says:
May 30th, 2008 at 10:37 pm
We agreed that since California had finally legalized same sex unions, that we would come out and defend our right to muppet marriges. I love him so….
Shocking, yet true. At least his mother is not alive to witness him marrying so far below his station; Elmo's reputation rivals that of Britney Spears at this point, and we can only hope that since Coop has made an honest muppet of him that his personal life will turn a corner.
But we have not much hope, it must be admitted. KFed on line one…
Enough! It is time to award the coveted hypothetical trophy of the virtual riches to the honorary winner, and here it is, something superfantasatic and sexy enough to keep the spirit of YSL alive and gladden the hearts of all in these dark days…
I always thought he'd save himself for me, you know. But enough of that…to the prize (and then to the merlot)!