Sunday, April 20th, 2008
By Glinda
Some of the most enjoyable times spent with my son have been the two of us baking in the kitchen. We chat, I try to teach math concepts, he tries to crack eggs without pieces of shell falling into the batter, it's all good. I have been thinking that it is perhaps time for my budding little chef to fly a bit more solo, and that means a good kids cookbook.
Simple recipes, easy prep, and most of all, recipes that taste good are prerequisites for a cookbook that will be utilized for a long time. As always, I'm here to do the heavy lifting and here are some of the best cookbooks that I could find.
Kids Cooking: A Very Slightly Messy Manual. For younger cooks, easy to follow recipes and great illustrations help out the beginner. And measuring spoons, too!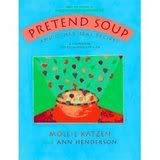 Pretend Soup and Other Real Recipes: A Cookbook for Preschoolers & Up. 17 easy recipes for your preschooler. Each recipes is printed twice, once in writing and once in pictures. An instant classic.
Honest Pretzels: And 64 Other Amazing Recipes for Cooks Ages 8 & Up. Vegetarian recipes make this book stand out. Recipes that are nutritious and easy to make will have your child wanting to make all of them!
Pink Princess Cookbook. If your little girl is enamored of all things princess-y, then this book filled with yummy tea-time snacks should do just the trick!
BatterUp Kids: Sensational Snacks!. This cookbook is great for kids just getting into the whole cooking thing.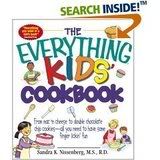 Everything Kids' Cookbook: From Mac ' N Cheese to Double Chocolate Chip Cookies-All You Need to Have Some Finger Lickin' Fun. A little light on the pictures so better suited for children 9-12, this book has everything from lasagne to smoothies. Also has games and craft ideas.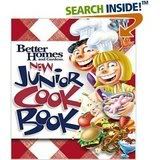 New Junior Cookbook (Better Homes & Gardens). When I was a youngster, I had my own Better Homes and Gardens Cookie Book, and it was awesome. This one has lots of recipes, you're covered from breakfast to to dinner. Also has a Cooking Basics chapter which explains about everything from cutting up vegetables to how to read nutrition labels. Also has diabetic exchanges.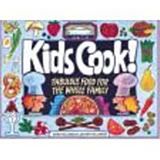 Kids Cook!: Fabulous Food for the Whole Family. Detailed instructions, "real" food, also gives nutritional info for the over 150 recipes featured. No color illustrations, but the cook can color while the food is cooking!