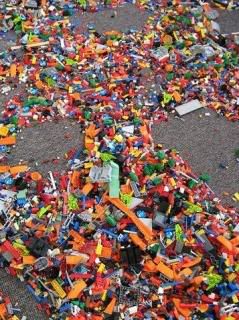 Photo by Richard Whittaker via Austin Chronicle
You know what I never expected when I learned I was to become a mom?
The Mess.
Oh sure, I knew that babies need to be bathed and have their diapers changed, and that when they are learning to eat, baby food can be splattered on walls four feet away if the wind conditions are right. And of course, they could not pick up after themselves. No surprises there.
But then silly, naive me thought that with increasing age, there would be a decrease in the amount of The Mess.
Wrong.
Maybe it is just my son, but he cannot seem to go anywhere without The Mess following him. Because even though there is no longer baby food splattered on the floor beneath his chair, make no mistake that there are significant amounts of whatever he just ate within a two foot radius or so.
The older he gets, the more intricate and smaller are the pieces of toys that he plays with. Think, if you can, of a regular Lego container that holds probably four thousand Lego parts. That's how small some of them are. Resulting in perhaps not a bigger Mess size-wise, but one containing more parts per million than when he was younger.
I'll be honest, The Mess is starting to taunt me. It keeps telling me that it loves it at my house, and it doesn't ever want to go away.
And really, now that I have named it, The Mess will really start to get comfortable and begin leaving dirty socks around and demanding that I get it an apple juice. In a cup. With ice.
Great.