Sunday, February 1st, 2009
By Glinda
I was trying to think of something for a Valentine's day list, and instead came up with items that either have "heart" in the name, or are decorated with hearts.
I'm guessing this may not be a typical Valentine's Day list, but that's all right with me.
Webkinz Plush Stuffed Animal Love Monkey A must for the Webkinz fanatic in your life.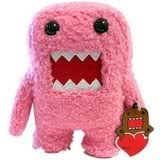 Domo Valentine's Day Plush So ugly he's cute!
Lekue Silicone Ice Cube Tray Make perfect hearts of ice every time!
The Day It Rained Hearts A classic Valentine's Day book for kids.
Polar F6 Women's Heart Rate Monitor Watch Maybe not a gift I would suggest a guy to get for Valentine's Day, but it fits my theme.
Kaiser Bakeware Heart Cookie Cutters Make cookie hearts in a jiffy with 6 sizes to choose from.
JanSport Superbreak Backpack Hearts galore decorate this excellent backpack.
Folding Hearts Learn how to make over 51 origami heart designs from origami master Sy Chen.
Heart of Darkness Hey, not everyone likes Valentine's Day!