Saturday, August 22nd, 2009
By Glinda
I apologize for possibly leading readers down the wrong path by saying last week's youngster was a "brunette" versus a "brunet." Can I plead never having taken French? I took Spanish instead.
As for the winner, it was none other than the first commenter, qc! The mysterious smirker is none other than Keanu Reeves, although I was hard-pressed to find an adult picture of him with a smile.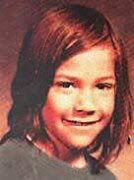 Here is today's chubby-cheeked tot:
Happy weekend and happy guessing!