Sunday, August 16th, 2009
By Glinda
For many students, each school year brings at least a little bit of anxiety. There is a new teacher, new classmates, and just a general fear of the unknown. From a child just starting kindergarten or preschool to an "old hand" in fifth grade, these books are an enjoyable way to ease children back into the school groove. Because let's face it, even the most devoted student needs some help getting back into the swing of the school year after a long, busy summer.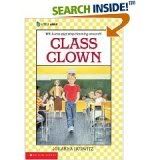 Class Clown Life in Mr. Hockaday's third grade class is never boring, especially thanks to the antics of Lucas Cott.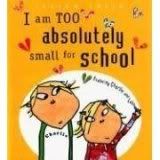 I Am Too Absolutely Small for School Lola thinks she is too small for school, but her brother Charlie comes up with all sorts of funny reasons why she should go. Charlie finally comes up with a reason that Lola can't refute with her own brand of logic.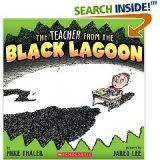 The Teacher from the Black Lagoon A boy's worst fears about his first day of school.
The Night Before Kindergarten Set to rhymes like The Night Before Christmas, this book deals with the excitement and apprehension of the first day of school, with a twist!
Arthur's Teacher Trouble Arthur thinks his teacher is too hard, giving them homework on the first day of school! But eventually Arthur is pleasantly surprised to learn that hard work is rewarded.
Never Spit On Your Shoes Arnie is tired. He's just finished his first day of first grade, and boy does he have some stories to tell his mom.
The Best School Year Ever The Herdmans are back! They manage to kidnap a baby, rescue a kid's head from a bike rack, and wash their cat (amongst other things!) in this hilarious book.
Back to School with Betsy At the start of third grade, Betsy is disappointed because her favorite teacher won't be teaching anymore. But, things turn out much better than she ever expected.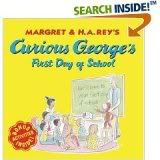 Curious George's First Day of School George is the best monkey to help Mrs. Apple on the first day of school. Until he gets into trouble, of course!
Time for School, Mouse! From the author of If You Give a Mouse a Cookie, this book has Mouse hunting for his homework.
Starting School with an Enemy Fifth grader Sarah's first days of school aren't going all that well. Did we mention that her family has just moved to Maryland, where she hates it?