By Glinda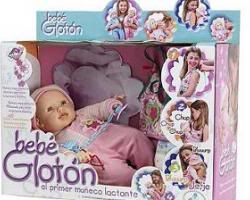 Last week I was curious about your level of germophobia, and the answers I got were pretty interesting.  Only one percent of you admitted to being a "constant cleaner" but I'm betting there are more than that.  Thirty five percent were choosy about the germs they worried about, and thirty three percent wanted a fairly high level of cleanliness.
I think I fall into the "choosy" category.  For instance, I hate shoes in the house.  My family and I never wear our shoes into the house, and that may be in part because I have light berber carpeting and I don't want it to be filthy looking.  The other part is that I cringe when I think of all the things we step in while wearing shoes.  But, I definitely pick my battles when it comes to germs.
As for today, let me introduce you to the newest toy controversy, Bebe Gloton.  She is marketed and sold exclusively in Spain, and her main purpose is to pretend to breastfeed from your little girl, who has donned a vest with flower pasties on it.  The doll latches onto the pasties and proceeds to "feed" from them.