Sunday, August 2nd, 2009
By Glinda
It seems that boys go through shoes more quickly than girls. I don't know if it's because they are in the dirt more, or in the case of my own son, just sort of like destroying them on their own for no good reason.
One day at the end of the school year he came home from school and had no shoelaces on one shoe. This despite the fact that he had left the house with two perfectly good shoes. Unfortunately, they were the kind of shoes that have self-enclosed shoelaces, so without them, the shoe was useless. No amount of wheedling, threatening, or bribing would induce him to tell me what happened to those laces. It remains a mystery to this very day.
So, like me, in case you need some replacement shoes for the fall, here are some suggestions.


Sperry Kids – Anchor HL
Who said stylish and school can't go together?
Vans Kids – Classic Slip-On
.  These never go out of style, do they?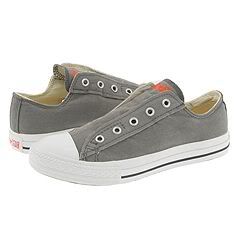 Converse Kids – Chuck Taylor All Star Slip
or
Converse Kids – Chuck Taylor All Star Ox
.  With or without laces, it's their choice.
Merrell Kids – Jungle Moc
These tough shoes will take him anywhere!
Nike Kids – T-run II ALT
Shoes that look great and feel great too!
School Issue – Scholar
These quality shoes are at a price that won't hurt your wallet.
Tsukihoshi Kids – Euro
These are some cool kicks!
Converse Kids – Chuck Taylor All Star Hi
Yes, the hi-tops are still a favorite.
DC Kids – Pure
These skate shoes were given high ratings for style.
Stride Rite – TT Transporter
A sturdy, versatile shoe.
Timberland Kids – Carlsbad Slip-On
It will take a lot for him to destroy these!