Thursday, July 2nd, 2009
By Glinda
Last week's game was a fun one, wasn't it?
Congratulations to Dr. Nic for being the first person to guess the eternally etertaining Bjork!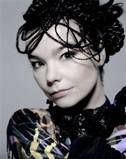 You can definitely recognize the resemblance when you put the "then" and "now" photos together, although I can totally see where La Petite Acadienne was coming from when she suggested Billy Corgan!  I think it is the reverse bowl cut that young Bjork had going.
As for today, we've got this pint-sized charmer…