Tuesday, June 23rd, 2009
By Glinda
A Dad says to his daughter, hey kids, let's go get some ice cream! The kids squeal with delight at the thought, and father and daughters have a fun time getting some delicious dairy, maybe with a little chocolate thrown in.
Typical, right?
Well, not if you are the Obama family. Instead of a nice afternoon at the ice cream parlor, you get Secret Service men, crowds of adoring fans, your picture being taken as you eat your ice cream, and not having a moment's peace.
I have a little tip for all the gawkers in DC. I grew up in Los Angeles, where I've seen more celebrities than you can shake a stick at, from A-listers all the way down to D. But, we don't pull out our cameras and scream and ask for autographs. We realize that they are people too, and would like to live their lives without hordes of people surrounding them every time they go out in a public place, and especially when they are with their families.
So we simply do what is known as "the nod." If you happen to make eye contact with them, you simply look at them and dip your chin down slightly, signaling that you acknowledge that they are a public figure, but that you respect them and are going to leave them alone.
Judging from the looks on poor Sasha's face, she wishes people would do that a little more often.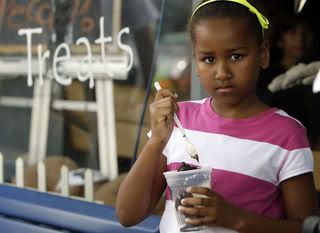 An "icy" stare.
Can't say as I blame her.