Wednesday, June 10th, 2009
By Glinda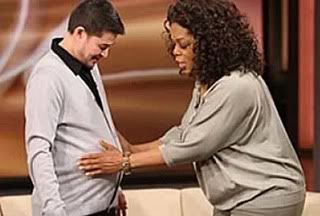 And the world gives a collective yawn.
You would have thought that there would have been a bigger hoopla, but I think the first time the headline of "pregnant man" came out, people were caught off guard.  Because of the way the story was framed, it sounded like some sort of major scientific breakthrough had been made, that an actual biologically born male was going to give birth.
Turns out it was a former woman who decided to become transgender, but yet kept all of his lady reproductive equipment.  Not quite the same thing, methinks.   
In fact, it got kind of annoying because it seemed the media wanted to make a big deal out of it, when to me it wasn't really a big deal at all.  Although I have to say it was confusing, because most who opt for transgender surgery and legal reassignment are usually very insistent upon being the sex they wish to be.  Which I totally understand. But to cross back over that line when you have done everything possible to not live that particular life any more seems very contradictory to me, and I am someone who is comfortable with whole transgender concept.
I respect his right to have a baby if he wishes, but I just wonder if perhaps there were some ulterior financial/attention issues going on there.  There are thousands of adoptable children out there, after all.
Cynic, thy name is Glinda.