By Glinda
Jezebel managed to steal a 1972 Sears catalog from somebody's basement that featured children's fashion. And I've promptly stolen the pictures from them, because this kind of horror is the kind that has to be shared so that other people can suffer along with you. And just think, I wore crap like this! And thought I was cool!
These chicks look like they could use an attitude adjustment. Because nobody should look that smug with strawberries on their pockets.
It seems that fruit was an overarching theme for 1972.
These pants leave me completely speechless. Uh, at least they were good at hiding stains? And who else remembers those horrible jumpers that took you forever to get out of when you had to go to the bathroom?
And don't think that the boys managed to get away unscathed. I want to know who thought wide-striped dress pants were a good idea.
Oh Winnie-the-Pooh, Christopher Robin would never have worn something so utterly dorky. The laces on those shirts practically scream out for a bully to grab them.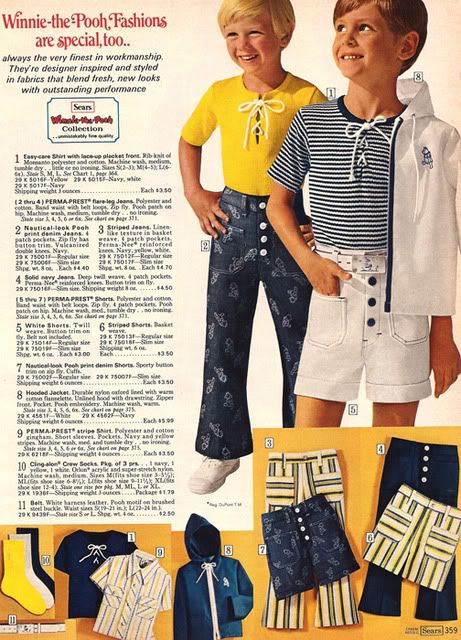 Finally, we see that no mercy was available even for babies. The little boy looks like he is beseeching his mom, "Why, Mom? Why would you put me in miles of scratchy polyester?"