Saturday, April 11th, 2009
By Glinda
Although I normally consider myself a liptsick gal, I make an exception for CARGO Lip Gloss.
It comes in a convenient, easily transportable tin that houses not one, but two colors of lip gloss. The great thing is that each color coordinates with the other, if so desired. Or, you can wear them one at a time, it's up to you. You can choose the tin that focuses on the hue combination you're looking for, whether it's berries or pinks or mauves.
The gloss goes on lightly and is non-sticky. My only complaint is that I wished it lasted a wee bit longer. But, you get lots of product in each tin, so it really does take a long time to run out! The gloss is priced well at $14.00, which sounds like a lot, but the tins are really big, so it's actually a pretty good deal.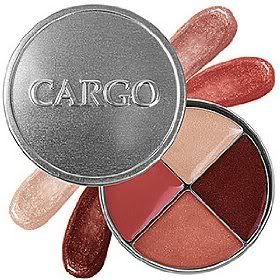 Or, if you really want to go wild, you can opt for the CARGO Lip Gloss Quads.