Saturday, February 28th, 2009
By Glinda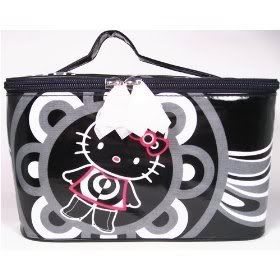 I know, I know. There is this odd trend in makeup lately that keeps returning to old 80's cartoon characters. Why? Nostalgia? Boredom? Because the 80's are cool again? That might very well be, since earlier this week I saw a mohawked, Doc-Martened young man that was a dead ringer for another young man I used to know. Back in high school.
Anyhoo, for whatever reason, MAC has decided to use that round-cheeked, be-bowed Japanese icon for their newest makeup line. I remember being in elementary school when Hello Kitty was just starting to be a hit, and every girl who was worth her salt had a soft sided Hello Kitty pencil case.
But, enough of the trip down memory lane, let's get to the line.
There are two main concepts in the line, Hello Kitty Mild and Hello Kitty Wild. With the idea being that the mild is for a more everyday look, and the wild for clubbing or dates or perhaps pole dancing classes. Or maybe your daily look is that of a pole dancer, and then you've got a dilemma on your hands.
Let me say that I've never been a MAC convert. I think I was too old when they started up, and although they've always had a very loyal and arty following, I've never been among them.
So perhaps I am just jaded in thinking that the colors are a bit outlandish, even for every day wear and that it is more about the accessories and the Hello Kitty logo on the makeup applicators/cases. With cutesy names like "Glitterpuss," "Kitty Power," and "Glamor Mews" they are almost going a bit overboard on the cute. Like, gag me with a spoon. And all you eighties people will know exactly what I just said.
The line is reasonably priced, so if you really like Hello Kitty and bright colors, then this line will make you very happy.
And I will leave you with the creeptastic bondage-fest that is this conceptual video brought to you by the good folks at the MAC marketing department. Which is apparently full of some seriously disturbed minds. NSFW or for kids!