Wednesday, December 17th, 2008
By Glinda
Could I technically have any of these things at any time of the year?
Yes.
But holiday foods are associated with the holiday, and somehow it just doesn't seem right to eat candy canes in July. Or, at least it doesn't seem right to me. So here are my favorite goodies that I only indulge in once a year.

Thumbprint cookies
If you've never had these, bake some or find someone that will bake them for you. Soooo good.
Chocolate Peppermint Bark
Ahhh, mint and chocolate. Never a bad combination.
Russian Tea Cakes
Now some may say that these are not holiday cookies, but in my family they are. And it's my list, so there.
Fudge
Again, most people I know only do homemade fudge at this time of year. I'll take mine with walnuts, please.
Gingerbread
I will admit to not actually liking the taste of gingerbread. But I enjoy looking at things made with gingerbread, so on the list it goes.
Candy Canes
Yes, they are totally ubiquitous, but it isn't Christmas until somebody breaks out the candy canes.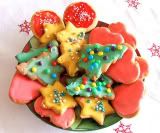 Cut-out and decorated Sugar Cookies
Angels, bells, Santas, stars, all of them taste great and are fun to make with the whole family. Silver pastilles on them scream Christmas to me.
I am part Italian, so these bring back lots of memories of Christmas at Nonna's house. Light, not-too-sweet, and tinged with anise, they are a great complement to a heavy Christmas meal. Or, uh, before a meal. Or sometimes during a meal…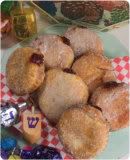 Fried dough, jelly, and powdered sugar? I'm all over that.
Peanut Brittle
Why is this candy associated with Christmas? I don't know, but it is, and I'll take some any time somebody offers it.
What about you? What foods do you look forward to?