Sunday, December 14th, 2008
By Glinda
I think I am in some sort of denial about there being less than two weeks until the holidays. I'm trying to hold the panic at bay, but not doing a very good job so far.
But do you know what makes me happy? Sales! Bargains! Knowing that often, good things come to those who wait. Feeling that I'm pulling one over on "the man" and buying something for less than someone paid two months ago. Bwaaahaaahaaaa! I'm totally evil that way. You?
Check out some of these amazing deals for the last-minute shopping you need to get done.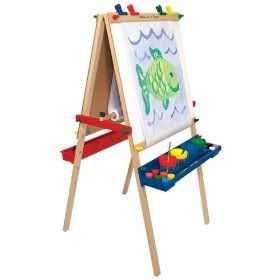 Melissa and Doug Deluxe Standing Easel This company makes great products that have the added bonus of being completely non-toxic. We love Melissa and Doug! And we love it even more when we can save 57%!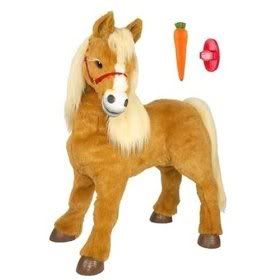 FurReal Friends Butterscotch Pony The pony that started the whole FurReal Friends craze. Can actually support a rider up to 80 pounds! Fulfill her dreams of a pony without needing a paddock. Originally almost $300, you save 50% and pay only $150.
I-Dog Dance White Just plug in your mP3 player and watch him dance! You will also find yourself dancing a bit after saving 50%.
Matchbox Power Scouts Skull Mountain Playset Boys love these Matchbox sets, which usually hook up to other sets for even more fun. And at 66% off, it's a great bargain.
LeapFrog Explorer Smart Globe This highly rated learning toy has multi-level games for up to four players, a world clock, interactive pen, and plenty of geography! You save 50% off the regular price.
Polly Pocket Ultimate Party Boat Playset So many girls love Polly Pocket, and this is the biggest playset offered! Comes with three of Polly's friends, who can have great adventures, including parasailing! I'm jealous! You can have this toy for less than eight dollars at 68% off the original price.
Littlest Pet Shop Digital Electronic Interactive Organizer A popular brand, this toy helps her manage her interactive pet and have her own personal organizer! Buy it and save 50%!
The Dangerous Book for Boys Game Did you know that the best-selling book is now also a game? They'll willingly give up the video games for this one! At only ten dollars, with a savings of 50%, I think I'm going to buy one for myself!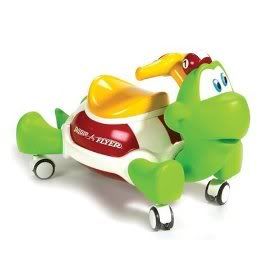 Radio Flyer Turbo Turtle Less than thirty dollars for a ride-on toy? From Radio Flyer? Are they crazy? Meanwhile, you save 60%!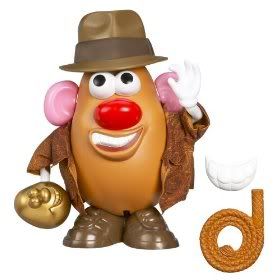 Playskool Mr. Potato Head Indiana Jones Taters of the Lost Ark, Idaho Jones Spud Shhhhh, I won't tell that you're really buying it for your hubby! And why wouldn't you, since it is only six bucks! I'm sort of amazed!
Hasbro Playskool Honeybee Hop A fantastic game that will get everybody in the family moving! Can be played indoors as well for lots of inclement weather fun. Get this highly rated game for 60% off!