By Glinda
*Due to popular demand, here is a list of the latest and greatest toys for girls this holiday season!
The list below contains toys and gifts for all age ranges and budgets. With my handy lists, just imagine, gift-buying can be almost as fun as gift giving!
Looking for more hot Christmas toys? Go here!
Looking for some hot Christmas toys for boys? Go here!
Nintendo DS Lite Coral Pink This is one of the holiday's most wanted toys! Smaller and lighter than the original DS, this revolutionizes game play with with ultra-bright dual screens, adjustable backlighting, stereo sound, and touch-screen technology. Connect wirelessly to Nintendo's WiFi Connection and play against someone on the other side of the room or the other side of the world!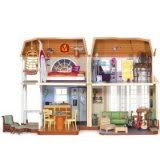 Hannah Montana Malibu Beach House Taking a cue from the Barbie classic, Hannah Montana now has her own beach house. It's the exact replica of the house on the show, and features many iconic furniture pieces, such as the swing she writes her music on. Comes with over 75 accessories and even stickers to decorate!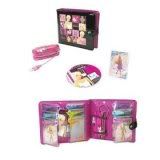 Barbie iDesign Ultimate Sylist Allows your budding fashionista to create unique fashion looks, design her own runway show, watch a tape of the show on the big screen, create magazine covers and play games! Tres fun for the younger set.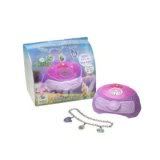 Disney Clickables Fairy Charms This Fairy Charms starter set includes a jewelry box, 3 Clickables, and a charm necklace. Touch a Clickable charm to the jewelry box and pixie dust will sparkle and music will play as the charm unlocks clothing and accessories for her Fairy in PixieHollow.com.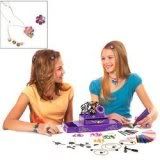 Girl Crush Jewelry Maker The only limits are her imagination! Lets her design and make jewelry of all types! Forget the stuff that's in stores, have her wear original pieces of art!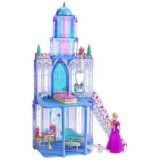 Barbie & The Diamond Castle Playset on sale! This enchanting castle has a magical light show with music, "hidden" jewelry throughout, and lots of rooms and furniture are provided for Barbie to play in. A Princess Liana doll and Sparkles puppy are also included.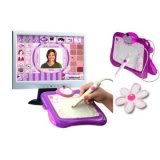 Girl Tech Stylin Studio For older girls who have grown out of the Barbie phase, this studio features a digital camera that hooks up to their computer as well as a touchpad console which enables them to create their own digital makeovers and cool effects for hair, accessories, and makeup. Once they are done, results can be printed out or emailed to friends and family!
Baby Alive Learns to Potty Young girls are usually fascinated by babies, and they will love playing "Mommy" with this realistic doll. They can mix her special food and feed her with her own bowl and spoon. She'll let you know when she needs to go potty, but you'd better hurry! Comes with many accessories for hours of imaginative fun. Also comes in African American and Hispanic versions.
Kidcraft Large Kitchen on sale! Rated as the best wooden kitchen set out there! Easier to assemble than most, this kitchen features a pink refrigerator and freezer, functional doors, microwave and oven with clear doors, a clock and phone, as well as endless hours of "cooking" enjoyment!