By Glinda
2008 is a banner year for boys!  There is some waaaay cool stuff out there, and now the hard part is deciding which ones to buy for my own son.   And of course, nobody is saying girls can't play with these, too.
Looking for more hot Christmas toys for 2008? Go here!
Looking for hot Christmas toys for girls? Go here!
Bakugan Battle Brawlers Starter Pack This toy is HOT for Christmas 2008! They are sold out in many places and if you think these are a good fit for your little guy, then I would by all means snap one up. These are actually a game of strategy, with magnetized marbles that pop open into a figure when they hit one of the metal playing cards. Boys love this toy, it's been billed as the new "Pokemon-type" craze. There is also a launcher and a battle arena that can be purchased, if you're feeling generous.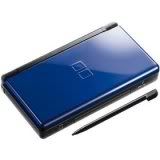 Nintendo DS Lite Cobalt Blue This is one of the holiday's most wanted toys! Smaller and lighter than the original DS, this revolutionizes game play with with ultra-bright dual screens, adjustable backlighting, stereo sound, and touch-screen technology. Connect wirelessly to Nintendo's WiFi Connection and play against someone on the other side of the room or the other side of the world!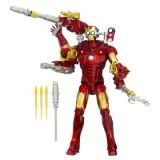 Iron Man Invincible Iron Man Assortment  One of the most popular movies of the summer, this Iron Man doll action figure has many cool accessories.  Now, the hard part will be not losing them all.
EyeClops Night Vision Infrared Stealth Goggles For eighty bucks, you can get real night vision technology, which usually runs for around five hundred! Of course it isn't top of the line, but is still pretty awesome.
Air Hogs R/C Zero Gravity Mini Car This is the first remote-controlled car that is able to climb walls and even drive on the ceiling! Caveats are that it works best on smooth surfaces, and that it's a bit loud. But did I mention it can climb walls?
Fisher-Price Manny's Transforming Tool Truck Lots of tools come with this toy truck, and it even turns into a workbench! Bilingual phrases, sounds, blueprints, and even random "breakdowns" that only your own Mr. Fixit can help with!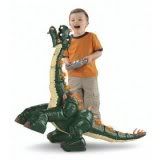 Fisher-Price Imaginext Spike the Ultra Dinosaur This large, remote-controlled dinosaur makes dinosaur sounds such as growling and uh, burping and sniffing. It can walk forward, blink its eyes, move its neck, and even throw a boulder! It also has lights and can rear up on its hind legs. This prehistoric dude is very popular, and Amazon actually has the best price on this one.
Fisher-Price Transportation System GeoAir High-Flyin' Airport Simply clip the remote-controlled GeoAir planes to the tracks, and watch them go! Includes an elevator, three fueling bays, a security gate, and a drop-off platform. Can be connected to other GeoAir or GeoTrack sets for an even bigger experience.
Hasbro Nerf N' Strike Vulcan Allows them to stun their "enemies" with the ability to fire 25 nerf darts in a mere 10 seconds! It has a rapid-fire capability that will completely overwhelm any and all opponents! The bad part? Picking up the darts, of course. But don't tell them that!
U Command Wall-E From the instant classic Disney/Pixar film, send Wall-E an instant order or preprogrammed action sequence via a wireless remote. Features lights, sounds, orginal movie voice, and realistic expressions. 10 different program buttons enable up to 1000 different action combos!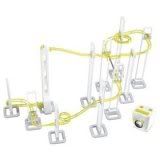 Mega Brands Magnext iCoaster New for 2008, build (and reconfigure later on for even more fun!) a completely magnetic roller coaster. It has lights, sound, stunts, and the ability to hook an iPod in to customize the soundtrack. A must for any adventurous engineer!
Fisher-Price Power Wheels AT Rex currently $100 dollars off! The ultimate in ride-on fun! This two-seater is an updated version of the classic Jeep Wrangler. It features a new grab handle for easy in and out, can go up to 5 mph, and has a rechargable battery.