Sunday, October 12th, 2008
By Glinda
Yes, it's only October.
But everyone knows that the tradition of getting the Christmas toys early, hiding them, and having the kids secretly attempting to find them is a classic. And, it can't be done unless you are out there early! The other upside to getting all that shopping done is more time to get into the Christmas spirit, rather than running around the stores like a headless chicken!
This week I'm featuring toys that are for both boys and girl, and are hot, hot, hot in 2008. In the coming weeks, I'll also provide special editions for "boy" and "girl" toys.
Looking for the hottest "girl" toys? Go here!
Looking for the hottest "boy" toys? Go here!
Looking for some great video games? Go here!

Elmo Live The most lifelike Elmo ever made! His mouth opens and closes while he is talking. He sits, dances, and waves his arms as he sings and tells jokes. Toddlers everywhere will love this newest Elmo.
Nintendo DS Lite This is one of the holiday's most wanted toys! Smaller and lighter than the original DS, this revolutionizes game play with with ultra-bright dual screens, adjustable backlighting, stereo sound, and touch-screen technology. Connect wirelessly to Nintendo's WiFi Connection and play against someone on the other side of the room or the other side of the world! Available in many different colors.

KidiArt Studio on sale! Hook this up to the television or the computer to enhance the experience of this digital camera. Kids can do basic art lessons, add and edit photos, and even create stop-motion animation!

U-Dance No mat necessary! Instead, you hook an innovative, customizable band around your shoes and get ready to execute almost any dance move you can think of!

Rock Band for Xbox 360 and Rock Band for Playstation 2 and Playstation 3 These special editions are fun for the entire family. Expensive? Yes. Entertaining? Absolutely! With a playlist ranging from Smashing Pumpkins to the Beastie Boys, everyone will indeed be rocking out.

Monopoly Here and Now World on sale! A world wide vote determined what cities would be included on this game board. There's no telling which exciting, exotic locations you will own! Also comes with Monopoly "credit cards" and digital banking device that keeps track of your balance.

EyeClops Bionic Eye on sale! Forget stationary microscopes, kids can use this portable one to examine anything and everything up to 200X magnification! You can also plug it into the television to see it on the big screen!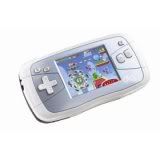 LeapFrog Didj Custom Learning Gaming System Taking the popular portable Leapster to the next level. It offers a computer interface to continue the learning online. Also has customizable characters, backgrounds, animation, music, and more!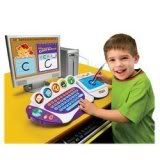 Fun-2-Learn Computer Cool School Preschoolers will love this keyboard built just for them! Includes a stylus, writing tablet and software. Leo the Lion takes them on fun adventures in reading, writing, math, art, music, and science.

Webkinz Ganz Large Fantail Goldfish Your young one may already have one of these, but do they have this new release? Instead of just a regular old room, the Goldfish will get you an underwater one! If you approve of safe online game play, the Webkinz are some of the best bargains around!

ME2 It works like a pedometer, but awards points for physical activity that can be redeemed for virtual goodies. Kids can also compete against other kids and enjoy an ME2 online universe.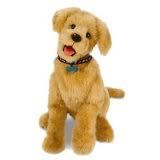 Fur Real Friends Biscuit With lifelike sounds and movements, you will almost be convinced that you've got the real thing! Except, no vet bills, animal dander, or cleaning up after. I'm sold!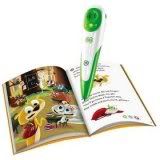 LeapFrog Tag Reading System Watch as books come to life! Using the Tag Reader, cool sounds, character voices, and music are added to literary favorites such as The Little Engine That Could.