Thursday, July 24th, 2008
By raincoaster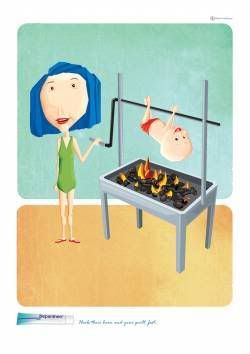 Oh, my. I wonder who at Bayer's ad agency thought that these charming images of spit-roasted children, ripped, apparently, from the virtual pages of a DailyCandy email (DailyCandyHell?) would sell burn ointment to Egyptians? Yes, it's a speculative ad, not a real one, but still…Perhaps the secret lies in this comment from octopusink, over at Gawker:
You have to consider the target demographic. While in the US, the cannibal mother market is considered more niche, in Egypt it's pretty mainstream. Anyone who's ever tasted an egyptian child knows why.
Thanks for the clarification. I think.
From Copyranter via Gawker