Sunday, July 13th, 2008
By raincoaster
In the world of toy designs, some rare creations are so enriched with the superfabulousness that comes from pure genius that it's hard to believe they didn't always exist.
CrazyForts is one of those designs.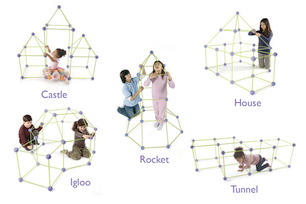 Like oversized TinkerToys, these safe and sturdy frames can be put together in almost infinite variations. And you get to keep the cushions on the sofa where they belong! To create the world's most customizable fort, just pop the frame together in the configuration of your choice and throw a sheet over the skeleton. It's up to the kids if they want to use the Star Wars ones or the flanellette cowboys, though. You don't want to interfere with creative genius.