Sunday, June 29th, 2008
By raincoaster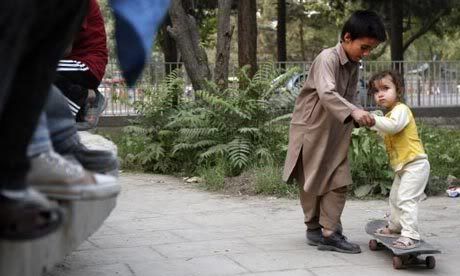 Trust three bored Aussies in the middle of a war zone to come up with this: an outreach program in Afghanistan consisting of co-ed skateboarding lessons. That pic is of Haroon, teaching his two-year-old sister Baher to pop an ollie while a crowd of sk8er boiz wait their turn.
From the Guardian:
Afghanistan… has the world's highest percentage of school-age children but some of the toughest conditions. Despite progress since 2001, illiteracy is rife, beggars swarm the streets of Kabul and there are 600,000 child drug addicts. Just 1% of students make it to university.

Skateistan, as the project is called, started 18 months ago with 10 secondhand skateboards that Percovich, 34, scrounged from friends in Melbourne. It is a departure from the macho image of sport in a country where the national pastime, Buzkashi, features two teams of horsemen fighting over a calf carcass. Dog fighting and cock fighting are also popular.

Skating is non-competitive, creative and urban. The organisers hope the sport will come to define fun in the post-9/11 era, just as the bestseller The Kite Runner symbolised childhood in 1970s Kabul…

Skateistan tried to be different. It started small, offering free skateboarding classes in public spaces, with virtually no budget.

The strategy took the Australians to some unusual venues, including the Russian pool, an empty pool overlooking the city frequented by hash smokers and used for Friday night dog fights. Under Taliban rule it was used for public executions.
Sounds like the skate park near my house, actually, but that is neither here nor there. After deciding that building a skate park would be a step up from trying to take back the dogfighting arenas from the hash smokers, and rejecting working with the nonprofits in Afghanistan on competence-based grounds, they're looking to raise the money from scratch. And we all know how well-funded the ground level of skateboarding is, don't we?
In tangentially-related news, does anyone know why skateboarding in North America is almost exclusively male? I see plenty of girls at the skate park, sure, but they're sitting, they're smoking, and their waiting for their boyfriends to go so they can applaud wildly. Was I the last girl on the continent to feel welcome on a longboard?
Click HERE to enter our stylin' Stila giveaway!