By Glinda
Ahhhh, summertime! To me, summer is synonymous with sun, sand, and water.  Or even two out of those three. Here are some things to help you enjoy whatever combination you find yourself in.
Sunday Afternoon's Kid's Bucket Hat UPF 50I own this hat (in tan, no flowers over here!) and I have to say it is fabulous. The brim is very wide, and actually covers the back of the Munchkin's neck. It is washable, crushable, lightweight, and has those all-important ventilation holes.
Kettler Digger on Wheels Dual Action Lever Digger Yes, it's a wee bit pricey, but this is too cool.
Castle Bucket Set This is a nice, basic, fairly cheap set. Great for babies and toddlers, and I guarantee that watering can will be a big hit.
Complete Sand & Water Beach Play Set And here we have the "on steroids" version to the one above.
Sunny Striped Tri-fold Beach Mat A cute and roomy straw beach mat that when folded up, doubles as a tote! The price is definitely right on this one. One for me, please!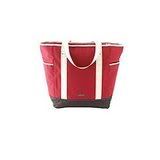 Large Lighthouse Zip Top Tote Take it from someone who has lived near the beach her whole life, the right bag makes all the difference. Waterproof nylon, smaller mesh pockets inside, and a zip top are what you need.
Rainbow Beach Umbrella with Carry Bag This giant 8 foot umbrella is a must so that everyone will fit under it! Good thing it comes with a carrying bag, because that is one big umbrella! And, due to its sheer bodacity, it is recommended that you get an anchor for it as well.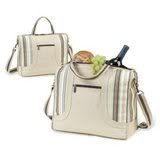 Santa Cruz Large Insulated Cooler Tote  Forget the bulky and difficult-to-lug from the parking lot hard sided coolers.  I like the bag ones because I can stuff more into them than the square ones.
Me Talk Pretty One Day  Yes, it is an old book.  But, it is perfect for beach reading with its little vignettes so that you don't have to worry about losing the "plot," and is truly one of the funniest books I have ever read.