Thursday, June 12th, 2008
By raincoaster
I'm relatively sure we've already used that headline (and will again, no doubt) but what else can you call a blog post about stripper heels for babies?
Yes, she said Stripper Heels For Babies.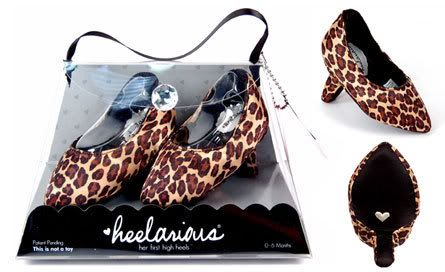 heežlaržižous [he-lair-ee-uhs] – noun:
extremely funny, completely soft, fully functional
high heel crib shoes for babies.
Not intended for walking (heel will collapse with weight).
Not intended to harm children in any way.
WARNING: May cause extreme smiling and hysterical laughter when in use (this is completely normal).
You know what? No, it's not. Not normal, unless your last name is Spears, and if this doesn't physically hurt your child, imagine the tsunamis of psychological damage these babies can cause, if not now then in junior high when Stan's basketball team get ahold of his baby book.
Just. No. What is this? "Baby needs a new pair of CFMP's?"
via Dlisted and Crunk&Disorderly