Wednesday, June 11th, 2008
By raincoaster
Do I know my readership or what? Yes, you may now thank me for finding you The Most Perfect arts and crafts project to share with your children. Not only will they have fun printing this out and putting it together, but there is nothing a kid likes better than to see Mommy proudly wearing the result of his/her handiwork; that is something Mommies find much easier to bear when the result is not a macaroni necklace but rather:
An authentic Hermes Kelly bag.
The Birkin is so Twentieth Century, really.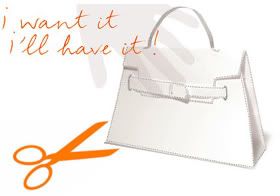 Pick your design or use coloured paper (use handmade Japanese washi paper if you want to get really fancy), print out the pattern and cut and glue to your heart's content. These babies are beautiful (I like the cherry blossom one, if I can't have a plain black calf Kelly straight from the workshop). Kellys have always been superior to the relatively sloppy, vulgar Birkin in my arrogant and not-uninformed opinion, but it is a matter of personal taste: It's To Catch a Thief versus Je T'Aime; Moi, Non Plus.
From Hermes via Counterfeit Chic.