By Glinda
Today we are going to tackle bronzers. I have mixed feelings about bronzers. I totally lurve the concept, but sometimes the execution worries me. I mean, bronzers have to be applied fairly carefully, and my big problem is when people who are fair everywhere (including their faces) want to try and look sun-kissed and wind up with a face that is much darker than the rest of them. Maybe a good look in a dimly lit bar, but not so hot anywhere else.
I do have to say that the bronzers of today are much better than the orange-y ones of yesteryear. Gotta love technology. If you have oily skin, definitely go for a poweder. Dry skin can use either a liquid or powder, depending on your preference.
If you are into bronzers, which can also be useful for contouring, here are a few you might want to consider.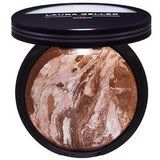 Laura Geller Bronze – N – Brighten
Not only is this a bronzer, but it can also be used as blusher, eyeshadow, and a light foundation as well since it contains color-correcting pigments. This product is actually baked to create a nice matte finish. Glinda likes. Glinda always likes multi-use products!
For lighter skin tones, Hoola will give you a nice, natural glow. Upon application, the color is a subtle, matte brown, with no shimmer. For darker skin tones, go for Dallas.
Smashbox Fusion Soft Lights Shimmering Powder
What I like about this product is the color versatility it gives. With the different shades, you can pick exactly how light or dark you want to go.
And, key to a good bronzer application is a nice, big brush. Something like this, perhaps.
Unless, of course, you want to look like this: