By Glinda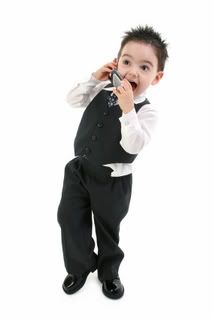 The phone rang, and I automatically glanced at the LCD display to see who it was. Don't we all?
Oh, a mom friend of mine, one whose daughter is in the Munchkin's class. Fabulous! What gossip does she have to dish out to me today?
Instead of mom, though, I hear a rather breathless, "Hello, this is Cutest Little Girl in the World and is the Munchkin home and may I speak with him?"
Thrown for a bit of a loop, I walk over to where the Munchkin is sitting. He is engrossed in his newest obesssion, which is an old Scooby-Doo movie where Scoob and the gang meet Batman. I think he pretty much has all the lines memorized at this point.
I hand him the phone with a chirpy, "You have a phone call!"
And ever the clueless male, he continues to watch the television until I make him pause it. He then chatters rather aimlessly for about a minute and a half, and they hang up. Something about chocolate chip cookies was communicated, that I know for sure. The rest is anyone else's guess.
So he says goodbye and hangs up the phone. Instantly, he turns the television back on. No big deal. Just a blip on his radar screen.
And all I can think to myself is awwwwwwww, he just got his first phone call from a girl!
Then…
Oh crap! He just got his first phone call from a girl!
I am so not ready for this!