Archive for May 29th, 2008
Thursday, May 29th, 2008
By raincoaster
Excuse me, but where would I find the optometry department?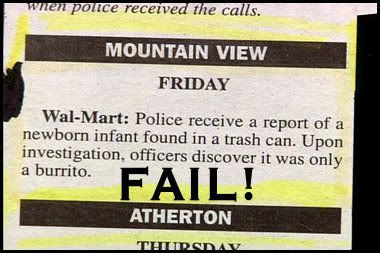 from the Failblog
Thursday, May 29th, 2008
By Glinda
When I first heard of this product, I thought it was a joke. Surely there was no one drunk/drugged/forced at gunpoint at Nickelodeon to sign on the dotted line for this concept.
But, scarily enough, it's legit. In what is sure to go down in the annals of marketing history as the worst brand placement ever, I give you:
Yes, a rectal thermometer that plays music. Specifically, the signature theme of Spongebob Squarepants.
Years from now, there will be hordes of young children who will cry whenever Spongebob comes on, and yet have no idea why.
Disclaimer: Manolo the Shoeblogger is not Manolo Blahnik
Copyright &copy 2004-2009; Manolo the Shoeblogger, All Rights Reserved