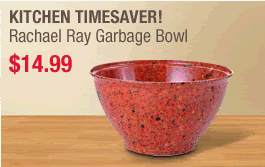 Think of Rachel Ray.
This is just too perfect; she wants you to spend fifteen of your hard-earned dollars to purchase a bowl into which you'll throw your crap.
As for me, I call the place where I throw my scraps the "Garbage" but you know, her market is terribly refined.