By Glinda
Because Teeny Manolo is ostensibly a blog about children's clothes as well as various and sundry other things, I would like to present Baby Eggi.
Fugheddabout that horrifically priced Ed Hardy stuff if you are into tattoo-inspired wear. Baby Eggi is cute, affordable, and the designs are not as over the top as some of the other tattoo wear out there. I also like that they donate a hefty twenty percent of their profits to their charitable partners.   
Baby Eggi was started by two sisters who thought they had what it took to begin their own clothing line. With one of the sisters formerly employed in the fashion industry, they actually did have what it takes. Then, they enlisted the talents of tattoo artist Mark Mahoney. Mark's real ink can be seen on the likes of Angie, Brad, and Johnny Depp, among many others.
These adorable "Forgive Me for I Know Not What I Do" shirts are eighteen dollars. Not bad when you compare them to Ed Hardy tees at fifty bucks or so.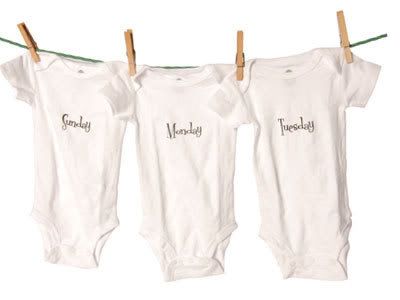 Days of the week onesies, only twenty eight for the set! Also available in French and Spanish.