By Glinda
Books are already magical, and pop up books seem somehow even more special. There is no better way to get your child hooked on reading than by introducing them to pop up books. Children (and adults too!) are completely fascinated with three dimensional pictures that are, in essence, individual sculptures. Yes, little hands can be grabby and close supervision necessary, but pop up books are also a wonderful way to teach young ones to appreciate and respect books.
Encyclopedia Prehistorica Dinosaurs: The Definitive Pop-Up by Robert Sabuda Special note must be made of Robert Sabuda, as he is widely viewed as the best pop up book illustrator out there. This is not the first time you will see him on this list.
Mommy? by Maurice Sendak, Arthur Yorinks, Matthew Reinhart A classic Sendak book, which is slightly scary but has the protagonist outwitting all the monsters as he searches for his mom in a haunted castle.
Alice's Adventures in Wonderland: A Pop-up Adaptation by Lewis Carroll Yet another story illustrated by Sabuda, this is a retelling of the classic. But with totally cool pop up pictures.
Winter's Tale: An Original Pop-up Journey by Robert Sabuda A story about animals who live in the snow, this visually stunning book ends with a Christmas cottage lit up by real lights.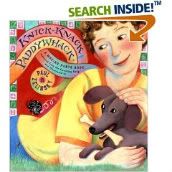 Knick Knack Paddywhack by Paul O. Zelinsky A boy and his dog go on a counting adventure, with each numeral being played by, you guessed it, an old man. Illustrated by Caldecott award winner Zelinsky, this book received honors for Best Illustrated Book by the New York Times.
The Wonderful Wizard of Oz: A Commemorative Pop-up by L. Frank Baum Knock, knock? Who's there? Why Sabuda yet again as we follow Dorothy down her yellow brick road.
Color Surprises: A Pop-up Book by Chuck Murphy This beauty of a book is interactive, and the wee ones can gently pull or push to make animals move!
The Jungle Book by Rudyard Kipling Based on the classic, this book illustrated by Matthew Reinhart follows the adventures of Mowgli the Man Cub.
Haunted House by Jan Pienkowski Do you dare to "let yourself in" to discover what awaits you?
Star Wars: A Pop-Up Guide to the Galaxy by Matthew Reinhart Reinhart is also a top illustrator, and this mini encylopedia of all things Star Wars is perfect for your Star Wars obsessed youngster. Or your husband/significant other, we won't tell.
The Enchanted Dolls' House by Robyn Johnson Take a peek through the windows of doll houses from different time periods. Rich in detail and beautifully done.
One Red Dot: A Pop-Up Book for Children of All Ages by David A. Carter A number book that has a hidden red dot in every construction. One of the more interactive books on this list, there are also tabs to push and pull.