By Glinda
It's that time again! When the flowers are blooming, the weather turns warmer, and you can finally kick those kids out of the house!
Here are some fabulous things to keep them occupied through the long summer months…
Megaland I am liking quite a few things about this toy. First, children from 36 months to 8 years can play in it! Now perhaps an 8 year old is too cool to play with it, even if it lasts until 6 years, that's still a bargain! Also, it can be configured in many ways, so if your kids get bored easily, it can be changed.
Naturally Playful Woodland Climber. Are you a bit weary of your child trying to climb up your counters, cupboards, or onto your sofa? Then this toy just might do the trick. Step 2 makes some great, long lasting toys.
Naturally Playful Sand and Water Activity Center I can speak from personal experience when I say that my son loved this toy. It's better than a regular sandbox in two ways. 1. They don't get sand in their pants. 2. They can do what every kid loves to do, mix sand and water, and did I mention not getting sand in every crevice?  Also comes with a lid that stays on tight, keeping out bugs and rain.
Blast Pad Missile Launch System Some rocket launchers are difficult to use, somewhat dangerous, and easily broken. This one beats them all. Not a whole lot of effort to launch, but they go up satisfyingly high!
Ultimate Beach Ball Sprinkler Perfect for those days when you are feeling slightly lazy. Just fill up the ball and let the kids do all the work! Wait, but isn't that almost every day?  Or is it just me?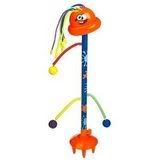 Splash Balls Sprinkler Sprays tons of water every which way! More unpredictable (and therefore, better) than the sprinklers that just sort of rotate around in a circle.
Naturally Playful Picnic Table with Umbrella Got one or more kids? Do they have any friends? Then an outdoor picnic table is a great solution to the dilemma of letting dirty kids in the house to have a snack. I also have personal experience with this table, and not only is it "pretty," it is sturdy and well made. It seems a bit expensive, but it is well worth the money.
Neat & Tidy Cottage Looking for a playhouse, but need to pick yourself up off the floor from sticker shock? This cottage is a bargain for the price compared to other playhouses with similar features. It also has that all-important kitchen.
Radio Flyer Pathfinder Wagon We also own this wagon, and it rocks. Are we noticing a trend, here? Hey, when possible I like to speak from experience. With seatbacks, seatbelts, real rubber wheels and cup holders, this wagon is one sweet ride!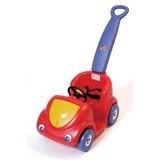 Push Around Buggy If your child is not yet able to propel themselves around in the Cozy Coupe, then this is your solution. Yes, you have to do all the work, but isn't it worth it? Also comes in pink!