By Glinda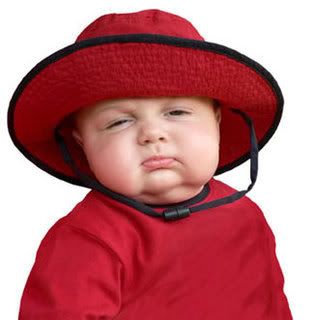 I don't know why no one ever told me the truth. But I would now like to bring the truth out in the open, for all to see. I consider it my duty and a public service. You're welcome.
When I brought my newborn home, I thought all was perfect and well with the world. And it was. For the first eight hours.
Then it became apparent that my life would never be the same.
Awww, Glinda, you are saying to yourself. Of course, a child changes your life in such a wonderful way! Such a wonderful, permanent way!
Well yes, there is all that with the bond you have with your offspring, yadda, yadda, yadda.
However, the permanent change that I'm referring to is that of not getting enough sleep. That is the change that no one bothered to tell me about. And if you ask me, it's a rather important one.
For some reason, the term "midnight feedings" just doesn't really seem all that big a deal until you are actually in the midst of doing them. And then you are so sleep deprived that you just sort of muddle through the rest of the day, hoping to goodness that it is safe for you to operate heavy machinery. Most likely it isn't, but you do anyway because that is how insidious the process is. You're fine, really, you insist, as you almost knock over the trashcans while pulling out of the driveway.
Finally, you get to a point where you think, my child can sleep through the night! Hooray! You have gone through about three "sleep books" that have purported to tell you how to get your child to sleep, and you have at last discovered the magic formula, whatever that may be. You might even be tempted to indulge in some self-congratulation, because that first night is such a milestone.
Don't believe the hype.
There are still nights of sickness and coughing, nights of waking up at 2am and screeching that they "can't get back to sleep!" They are hot, they are cold, they need a tissue, they loudly announce bathroom visits at 4am. Worse yet, there are the early wakings-up from an almost demonically energetic child who wants you to make them breakfast. Now. Even though by all rights you should be snuggling under the sheets for a minimum of a half hour more, they really don't care.
From what I hear, as they get older, you still aren't guarunteed a peaceful night's sleep because they are gallivanting around and you are wondering if they are lying in a ditch somewhere, or posting compromising photos of themselves on the internet, or a plethora of other things that will keep you awake into the wee hours of the night.
So just know that when your child is born, your life is indeed changed in many ways, mostly for the better. But the odds are you will never get a truly good night's sleep again.  At least until they leave the house. And maybe not even then.