Archive for October 11th, 2007
Thursday, October 11th, 2007
By raincoaster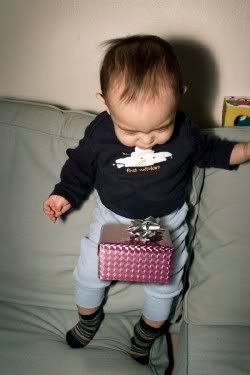 Who says Britney Spears is a bad mom? Why, she's already got the boys's Halloween costumes sorted! That's what I call being involved!
Thursday, October 11th, 2007
By Glinda
You know what, call me a prude, but I have this big problem with women who go out with their kids dressed like they are late for their job at the Fantasy Club for Gentlemen.
Now I am the last person on earth who thinks that once you become a mom, any sex appeal you have should disappear under voluminous caftans with mandarin collars.
But, I do think that when you are out with your children on something as wholesome as a visit to the pumpkin patch, the last thing you should pick out of your closet is sky-high platforms and a shirt that leaves little to the imagination.  It should just be a rule of thumb for any woman that one does not wear something that when one bends over, one will wind up flashing one's, er, pumpkins for all to see.
One part of me looks at Shauna Sand, former Playboy Playmate (surprise!) and ex-wife of Lorenzo Lamas, and thinks, how nice that she is taking her lovely daughter on a fun family outing, complete with face painting! What girly fun!  Then the other part looks at her shoes and says, girlfriend is gonna break an ankle on that uneven ground. And for what?  To convince the face painter and the dude conducting wagon rides that she is a MILF? 
Let's get a better look at those shoes:
Ah yes, just perfect for walking in the hay! And as an added bonus, the ability to inflict major damage on some pumpkins. 
Disclaimer: Manolo the Shoeblogger is not Manolo Blahnik
Copyright &copy 2004-2009; Manolo the Shoeblogger, All Rights Reserved